Bowling Green couple indicted in toddler abuse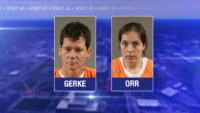 BOWLING GREEN, Ky. – A Warren County grand jury indicted a Bowling Green man Wednesday on two counts of sodomy, three counts of first-degree assault and one count of first-degree criminal abuse of a toddler.
The man's girlfriend, Cynthia Lane Orr, 36, was also indicted on one count of first-degree criminal abuse in the case.
Brad Hunter Gerke, 39, is accused of causing serious physical injury to a 23-month-old toddler.
In an initial arrest citation issued against Gerke last month, doctors who examined the toddler told Bowling Green police, the toddler sustained numerous life-threatening injuries. A doctor said  Gerke's explanation for the injuries was "absolutely absurd," according to Gerke's citation.
Gerke and Orr are lodged in the Warren County Regional Jail. His bond is set at $20,000. Orr's bond is set at $10,000.