Baseball America: Hot Rods are Minor League Baseball's Team of the Year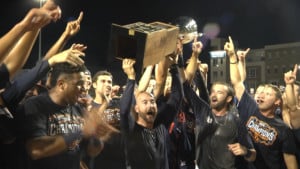 BOWLING GREEN, Ky.- After winning their first ever championship, the Bowling Green Hot Rods are being recognized as minor league baseball's best team yet again. Only this time, its a magazine recognizing the franchise.
Baseball America Magazine has named the Hot Rods the Minor League Team of the Year for 2018.
The magazine article discusses the team's 90 win season, and their dominance in the Midwest League Playoffs.
The article also touches on the team's players, with baseball scouts saying the 2018 squad was one of the most talented minor league teams they saw all year.
The Tampa Bay Rays affiliate returns to the field for the 2019 season on Friday, April 5.