ATF investigates two robberies in Franklin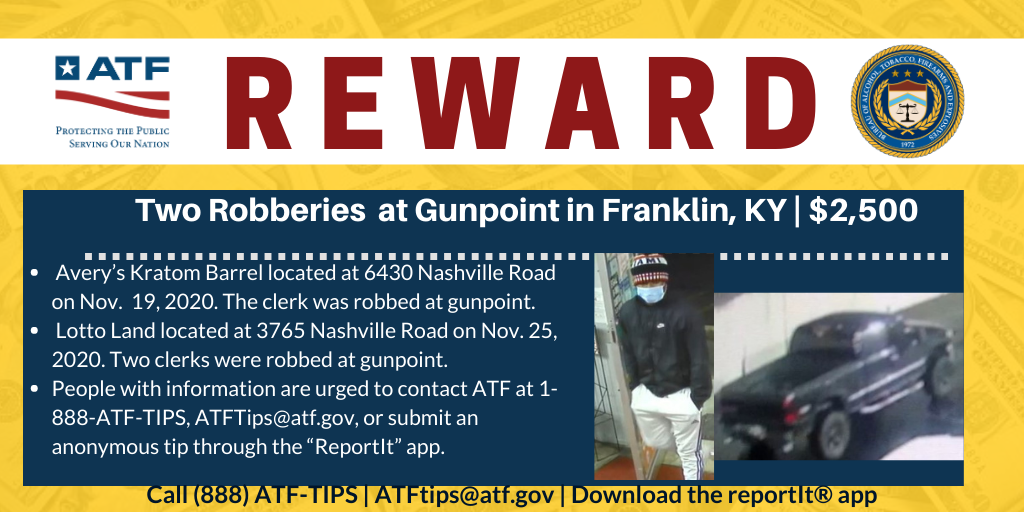 FRANKLIN, Ky. – The Bureau of Alcohol, Tobacco, Firearms and Explosives announced a reward Wednesday for information on the person responsible for two armed robberies in Franklin.
On Nov. 19, a clerk at Avery's Kratom Barrel, 6430 Nashville Road, was robbed at gunpoint.
On Nov. 25, two employees at Lotto Land, 3765 Nashville Road, were robbed at gunpoint.
The robber in both robberies is described as a black man, early to mid 20s with a slim build. He is between 5 feet 5 inches tall and 5 feet 7 inches tall. He was armed with a black handgun. Agents with ATF believe the same man committed both robberies. A dark colored GM extended cab lifted truck is believed to be the vehicle used by the suspect.
Anyone with information about this crime is asked to contact ATF at 1-800-ATF-GUNS (800-283-4867), email ATFTips@atf.gov or contact ATF through it's website at www.atf.gov/contact/atf- tips.  Tips may also be submitted to ATF by using the ReportIt app, or by visiting www.reportit.com (link is external).  You may also provide information by contacting the Franklin, Kentucky CRIME STOPPERS at 270-482-5765.