Housing authorities receive federal coronavirus funding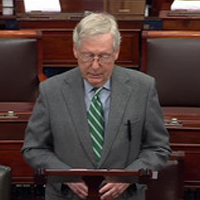 WASHINGTON D.C. – U.S. Senate Majority Leader Mitch McConnell announced Thursday day that housing authorities in more than 100 Kentucky communities are receiving a total of $12,596,159 from the U.S. Department of Housing and Urban Development.
The federal funding was made available by the Coronavirus Aid, Relief, and Economic Security Act also called the CARES Act.
It will be used by the Kentucky Housing Authorities to support  prevention and preparation services for their residents, for responding to the Coronavirus pandemic in public housing, and supporting the health and safety of assisted individuals and families across the Commonwealth.
Locally, the Housing Authority of Bowling Green received $203,072. The City of Bowling Green Housing Division received $74,436.
The Housing Authority of Glasgow received $160,567.
The Housing Authority of Franklin received $22,761.
The Housing Authority of Scottsville received $15,899.
The Housing Authority of Morgantown received $63,164.
The Housing Authority of Horse Cave received $31,004.